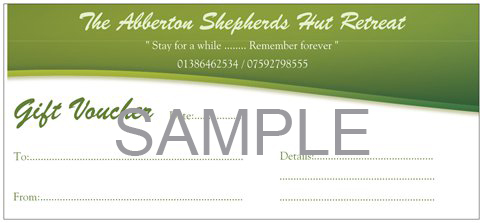 Why not treat a loved one to a surprise experience they will remember for ever by giving them a lovely gift voucher for the Abberton Shepherds Hut Retreat.
Let them choose when to stay and you choose for how long and perhaps some little extras they may like.
All you have to do is email, text or ring Catriona with your wishes and I will do the rest. Once payment has been received, usually by bank transfer, I will send the voucher to you or your lucky guest. They can then check availability on our website choose when they would like to stay and contact me to book it for them, aren't they lucky....